The Black Studies Collaboratory Small Grants Program will provide grants of up to $5,000 for research, teaching, curriculum development, and related projects to faculty, undergraduates students, graduate students, and staff, either as individuals, teams, or as representatives of a UC Berkeley program, department, or unit. The program will accept proposals from across campus that center blackness, especially teaching and research endeavors that are collaborative, and that move beyond what is defined as traditionally "academic." Some examples might include curatorial projects, poetry chapbooks, interdisciplinary course development, oral history projects and built-environment projects aimed at creating life-affirming spaces.
Applications are now closed for the Fall 2022 Small Grants program. Please check back in Spring 2023 for more information about the next call.
Fall 2022 – Black Studies Collaboratory Small Grant Program Awardees
Rachel Anspach
Project: "Definition from Above": The Role of U.S. Philanthropy in Black K-12 Education
franchesca araújo
Project: Festival De Cultura Barrial in Santo Domingo with Barrio Alante
Collaborators: Barrio Alante, and Poder Barrial in Santo Domingo, Dominican Republic
Joanna Cardenas
Project: Sustaining the Hood: Care and Community in South Central
Collaborators: Maria Anacleto (Community Member/Joanna Cardenas' Mother), Gabrielle Corona (Doctoral Student, Princeton University), David Cerfolio (Mental Health Professional), and the Women's Leadership Project
Caleb Dawson / Roll Out Crew
Project: Roll Out Crew
Collaborators: Rashad Timmons, African American & African Diaspora Studies, and Demorea "Truck" Evans, Roll Out Crew
Roll Out Crew (ROC) is a Black-led bike collective dedicated to combating youth gun and gang violence in Oakland. Created by local leader Demorea "Truck" Evans, the ROC organizes bike rides, community programs, skill and art workshops to build strong RELATIONSHIPS among Black and Latinx youth, provide OPPORTUNITIES to cultivate physical and mental wellness, and create safer COMMUNITIES where youth can live free of fear and harm.
Follow @rolloutcrew on IG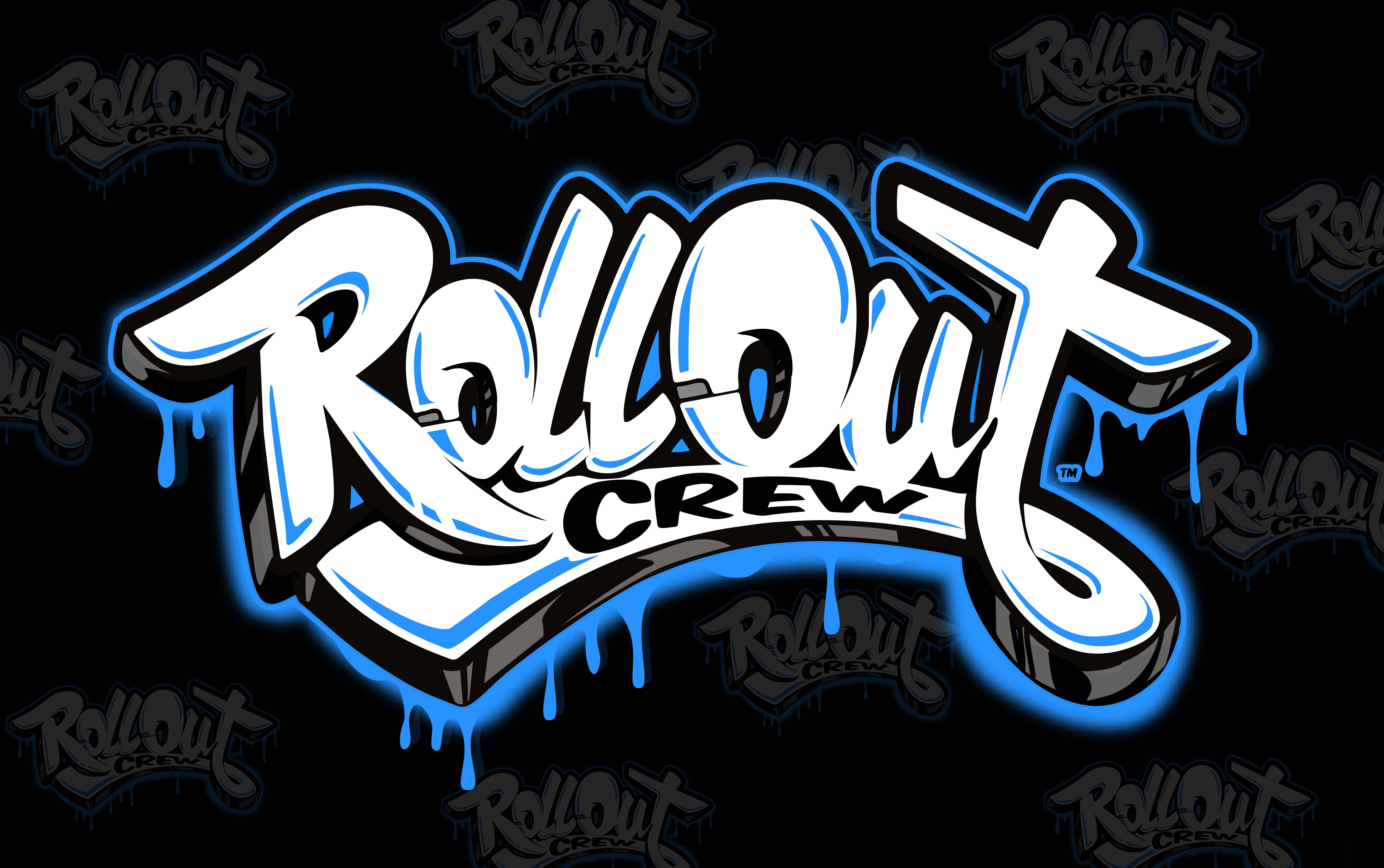 Caleb Dawson, Stephen Small / Black Lives at Cal
Project: Black Lives at Cal (BLAC)
Collaborators: Steering Committee: Stephen Small, faculty, ISSI; Takiyah Jackson, staff, AASD; Gia White, staff; Laura McCreery, former staff, Institute for Governmental Studies; Graduate Students: Caleb Dawson, GSR, Education; Nitoshia Ford, GSR, AFAM; Kevin Steward, GSR, Law; and Undergraduate Students: Ali Marvin, URAP, Interdisciplinary Studies; Amari Turner, URAP, Environmental Economics and Policy; Amber Griffin-Royal, URAP, AFAM; Daniella Lake, URAP, Media Studies; Erszabet Gonzalez, URAP, Bioengineering; Isabella Volz-Broughton, URAP, AFAM; Jacqlyn Jones, URAP, Film & Media Studies; Jilian Rousseau, URAP, Sociology; Kyndal Dowell, URAP, AFAM; and Skyler Draffen, URAP, English
Follow @black.lives.at.cal on IG
Kalani Dunn / DIASPORA Magazine
Project: DIASPORA Magazine
Collaborators: Holli Burnett, undergraduate – DIASPORA Magazine, Jimmy Hawkins III, undergraduate – DIASPORA Magazine, Zara Koroma, undergraduate – DIASPORA Magazine, Tristen Cousins, undergraduate – DIASPORA Magazine
Follow @diasporacal on IG
Akilah Favors
Project: Filming Hope: A Visual Collage of Black Resistance to Displacement in Atlanta
Collaborators: Film producer: Zana Sanders, 2nd Year PhD Student in African American Studies and African Diaspora Studies
Alexandra Gessesse
Project: Black Space is All Around Us: Hidden Histories from the Margins
Darius Gordon
Project: Black and Indigenous Brazil: History, Culture, and Language as a Diasporic Bridge
Collaborators: Marcos Valois, Co-Director of Aracoara Institute, and Antônio Castro Jr., Co-Director of Aracoara Institute
In U.S. conversations about the Black diaspora, the Portuguese-speaking world often remains underrepresented. In collaboration with the Instituto Aracoara language school, we will offer a mini-course titled "Black and Indigenous Brazil: History, Culture, and Language as a Diasporic Bridge" as a critical and careful remedy. Over several meetings, we will not only introduce curious minds to part of the Portuguese-speaking Black diaspora, but to plant seeds and spark interest in developing the language skills necessary to connect with this part of the diaspora in a meaningful way.
Alecia Harger
Project: What Does Liberation Sound Like? Black Art and Activism in the Bay Area
Collaborators: Amikaeyla Gaston
Vanessa Jackson
Project: Alexandre Dumas's Afro: Blackness Caricatured, Erased, and Back Again, BAMPFA Exhibit
Collaborators: Professor Darcy Grimaldo-Grigsby, Curator, History of Art, UCB; URAP researchers: Antonio Soto-Beltran, Riley Saham, Krista Pearl-McAtee, Molly Wendel; Professor Nana Adusei-Poku, discussant, History of Art, UCB; and Professor Zama Nsele, anticipated discussant, History of Art, UCB
Andrea Jacobo
Project: Beloved Community: An Intersectional Approach to Community-level Health Equity
Collaborators: UC Berkeley School of Public Health, Rhodes College, Shelby County Division of Community Services, WYXR FM 91.7, Memphis for All, Su Casa Ministries, Wellness & Stress Clinic Memphis, Memphis Interfaith Coalition for Action and Hope, Center for Transforming Communities, TONE Memphis, and Terracotta Nursery
Pilar Jefferson
Project: Wading: A Symposium of Black & Indigenous Aquatics
Collaborators: Larissa Nez, PhD Student in Ethnic Studies; Critical Museum Studies Working Group; Townsend Center for the Humanities; Ayasha Guerin, Assistant Professor of Black Diaspora Studies, University of British Columbia; and Simone Johnson, Artist and founder of The Water School
Brie McLemore
Project: Afro-Future Techno-Dreams: A Black Feminist Reimagining of the Internet & Beyond
Collaborators: Intended Collaboration with Tawana Petty of the Detroit Digital Justice Coalition
Abby Simmons
Project: #SimmonsStrong: Black Family Reunions and Critical Memory
Collaborators: Family members: Elizabeth Simmons, Justine Sanders, Sharon Johnson Theodore, and Blanche Wimberly
ameia smith
Project: the Fannie Lou Hamer Freedom Farm: Sowing Seeds of Resistance
Collaborators: the Fannie Lou Hamer Farm Project (UCB), People's Programs Oakland, the Fannie Lou Hamer Black Resource Center (UCB), Berkeley Student Farms, UC Berkeley Basic Needs Center, and Berkeley Food Network
Isabella Volz-Broughton
Project: Black Space–An Unknown Black History of People's Park
Collaborators: Paul Lee, African Diaspora Scholar in the African American Studies Department
Hillary Walker
Project: Black Gold Storytellers: Continuing the Stories
Collaborators: Adrienne Oliver (Write Avenue, Bay Area Writing Project, Laney College)
Gia White
Project: As I Walk These Paths – UCB Campus Black History Tour
Collaborators: BLAC Research Project members and Daniella Lake, URAP – BLAC Research Project
Elaine Yau
Project: The Cultural Fabric of a Quilt: Composing a Photo-Essay for BAMPFA's Quilt Show
Summer 2022 – Black Studies Collaboratory Small Grants Program for Students Awardees
C. Darius Gordon
Project: 'We, on the other side': Black Internationalism in the Lusophone World, 1950s-1980s
This dissertation examines how the mid-to-late 20th century relationships forged between Black activists in Brazil and anti-colonial revolutionaries of Portuguese-speaking Africa shaped the intellectual currents of their respective movements. Drawing on archived exchanges, Black press publications, organizational documents, Portuguese and Brazilian surveillance documents, and oral history interviews, I ask questions not only of the ideas that migrated but of the routes that made them possible. Ultimately, this project aims to further our understanding of the histories of Black internationalism, the conditions of possibility for Black transnational solidarity, and the lasting legacy of (Portuguese) empire.
Caleb Dawson
Project: Roll Out Crew (ROC)
Roll Out Crew (ROC) is a Black-led bike collective dedicated to combating youth gun and gang violence in Oakland. Created by local leader "Truck" Evans, ROC organizes bike rides and art workshops to build strong RELATIONSHIPS among Black and Latinx youth, provide OPPORTUNITIES to cultivate physical and mental wellness, and create safer COMMUNITIES where youth can live free of fear and harm.
More info: IG: @rolloutcrew
Collaborators: DeMorea "Truckie" Evans, Rashad Arman Timmons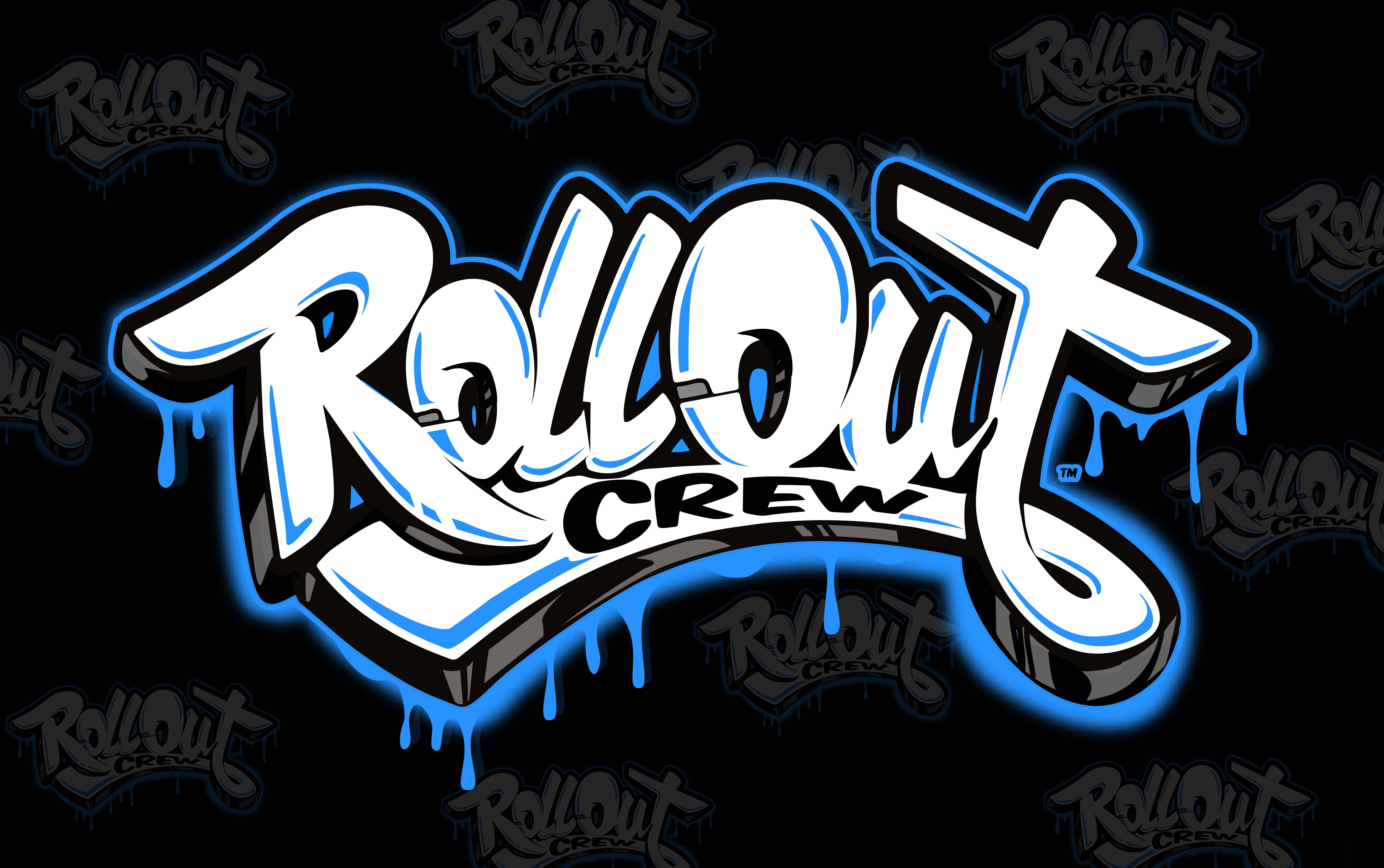 Edward Martin
Project: Senegal and Ghana Field Visits
Preliminary field visits to Senegal and Ghana in order to explore as potential sites for my longer terms research.
franchesca araújo
Project: Spanish Afro Caribbean Discourse, multi modal and cross-temporal histories through sound
In this project, I listen to and labor with the theorising done within Afro Caribbean music genres/productions from the Spanish Caribbean, including Dembow, Salsa, Reggaeton. Grappling with the articulations of geography and subjectivity articulated in particular songs I use a cross temporal approach to consider if music is a viable vehicle through which the Spanish caribbean can be drafted into a broader caribbeanist intellectual and anti colonial history specifically captured by Glissant, CLR James, and Sylvia Wynter. By considering what a caribbeanist futurity can offer us, I reject the nationalising and erasure ridden narratives of latinidad that attach themselves to Black genres of the Spanish caribbean.
Collaborators: Fran Araujo (my father), Soraida Araujo (my aunt), the works of Saso and Patogeno Musa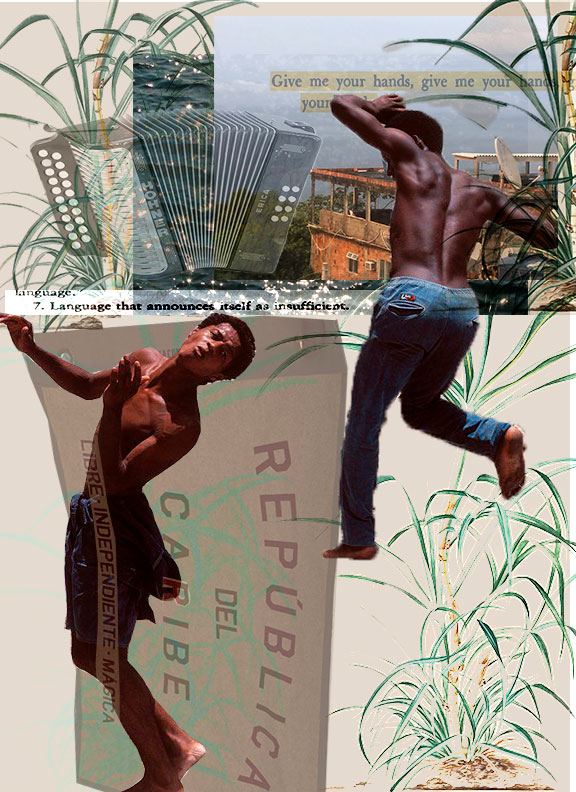 Kimberly Burke
Project: Loving in the Time of George Floyd
This project asks: how do Black-white interracial couples experience race within the context of police racialized violence in the US? I define the context of racialized police violence as the social context constructed by the laws and policies that contribute to police violence against Black people. Scholars have looked broadly at the role of race and culture in the family and in couples and the spillover effects of police violence beyond its direct targets and this study bridges these two literatures by examining policing violence as a mechanism of racialization within romantic partnerships during the years 2020-2022.
Rashad Arman Timmons
Project: Constructing Race and Rail: Blackness, Geography, and Modern Infrastructure in Early Ferguson
My dissertation project explores infrastructures as critical sites of gendered, racial, and spatial struggle within contested geographies. It interrogates how infrastructures violate black life across space and delineates how black subjects reorder power asymmetries through infrastructural interference. In all, my project attends to the dynamic ways black subjects adorn, seize, and manipulate the built environment to envision freedom.
Sibahle Ndwayana
Project: Between Blackness and Africanness: Listening for Afrodiasporic Rhythms
My project that dynamically moves through the intersections of the multiple worlds connected through Portuguese colonialism and its aftermath, namely Cabo Verde and Bahia, Brazil by attending to the aural within Capoeira Angola. As an exploratory project this will allow me to develop my ideas further as I will be able to travel my proposed field site and generate new ideas from empirics to further my dissertation project. I will also be learning Brazilian Portuguese/Kriolu as well as participating in some Capoeira Angola lessons.
William James Carter
Project: The Death Walk: Blackness and Danger
A London-Based Archival Project on Blackness/Disability/Psychosis, investigating 'K-12 Special Educational Needs' and Psychiatry as encounters of confinement, and centered on further understanding the relationship between Blackness and Terror as co-constitutive. This project will operate outside of America, located in the Atlantic World – discursively both untangling and entangling West Africa, Britain and the Caribbean.
William is a Political Geography PhD Student and Fulbright Scholar at UC Berkeley, and is originally from SE London. His work is highly interdisciplinary, and sits between Political Theory, Atlantic History, Maritime Ecology and Medical Anthropology. William identifies as Neurodivergent, and as such, will attempt to reflect the atypical thought process in his research output – with the idea that 'if we think "differently", then we must also proudly write and create with that difference.'
Intended Collaborators: Psychiatrist Emeriti Dr. Aggrely Burke and British artist Denzil Forrester
More info: www.linkedin.com/in/williamjamescarter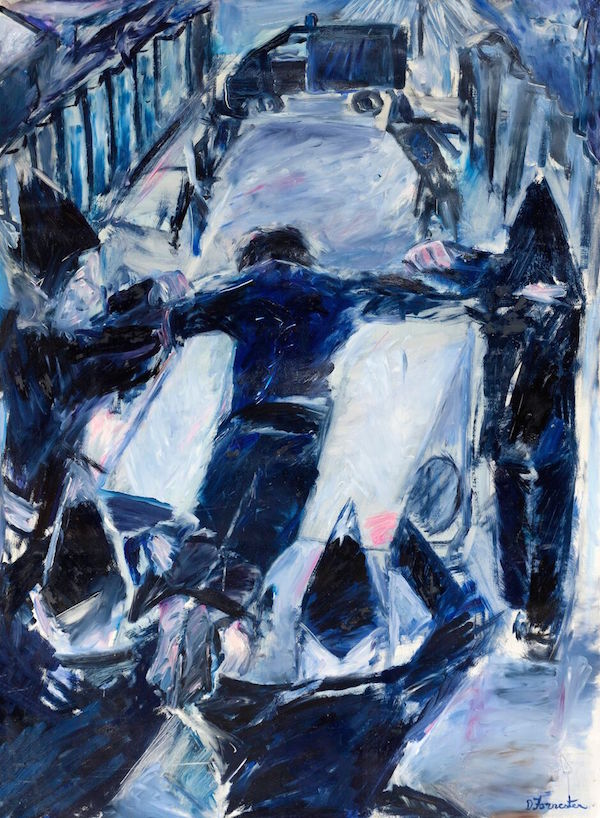 Juleon Robinson
Project: Beyond Black Property: Seeking Spatial Justice in California's East Bay
My project uses a Black geographic framework to reckon with the interminable housing crisis that has dislocated East Bay Black communities since the early decades of the 20th century. By tracing the role of regional housing policy in reproducing variegated landscapes of difference in these East Bay cities, this project illustrates the fundamental importance of racialized space for capitalist accumulation. Using this research as a foundation, I intend to develop political education materials in collaboration with local housing justice organizations to support ongoing anti-displacement organizing campaigns.
Collaborators: Alliance of Californians for Community Empowerment (ACCE)
Brenda Umutoniwase
Project: Listening to archives: An anticolonial approach to the study of Black folklore
"Various scholars of cultural theory and folkloristics have been theorizing on the epistemological function of folklore in Rwanda through engagement with archives. However, little scholarly attention has been dedicated to locating Rwandan folk literature and culture within a broader landscape of the Black radical and intellectual tradition. With a particular focus on archives of Rwandan traditional songs & sounds, this project addresses this concern by engaging with the conceptual framework of race, blackness in particular, in the analysis of the making, interpretation and overall scholarly relationship to archives of folklore in Rwanda. I want to think about how (anti)blackness informs our engagement with art and expressive culture produced by those marked with Blackness even if they may not use that identity. Due to racialization, Black sound often fails to register as containing meaning, logical and/or autonomous. So, I argue that uncovering the intellectual and radical bearings contained in the archives of folk songs and sounds in Rwanda demands a new mode of inquiry: a listening framework. Through this framework, by using the concept "felt sound" (Campt, 2017) and "fugitive listening" (Brooks, 2020), we become able to attend to the "unsayable" words, noise and other forms of frequencies always present in the archives of Black sound but constantly evade/elude the colonial ear and eye. Ultimately, this project seeks to contribute to the ongoing creation of a Black grammar/lexicon that makes possible the tools and structures in which Black cultural and intellectual work can exist, do work without a need for translation."
Spring 2022 – Black Studies Collaboratory Small Grants Program Awardees
reelaviolette botts-ward
Project: the "mourning my inner[blackgirl]child healing" project
blackwomxnehaling's "mourning my inner[blackgirl]child" healing project is inspired by "mourning my inner[blackgirl]child" (Nomadic Press, 2021), a book of poetic autotheory that explores embodied remembering, ancestral grieving, interiority and healing. The project consists of three interconnected parts: the album, the virtual experience, and the #bookclubhealingcircle. Each offers pedagogical scaffolding of the text and provides practical healing modalities for Black womxn readers.
Collaborators: Heather Archer of Thriving with Heather and Brittany Tanner of The Song Remedy and The ATMO Vibe
More info: https://www.blackwomxnhealing.com/book, https://www.blackwomxnhealing.com/virtualexperience, https://www.nomadicpress.org/store/mourningmyinnerblackgirlchild, https://soundcloud.com/ree-botts-phd/meditation-meeting-your-inner-loving-black-mother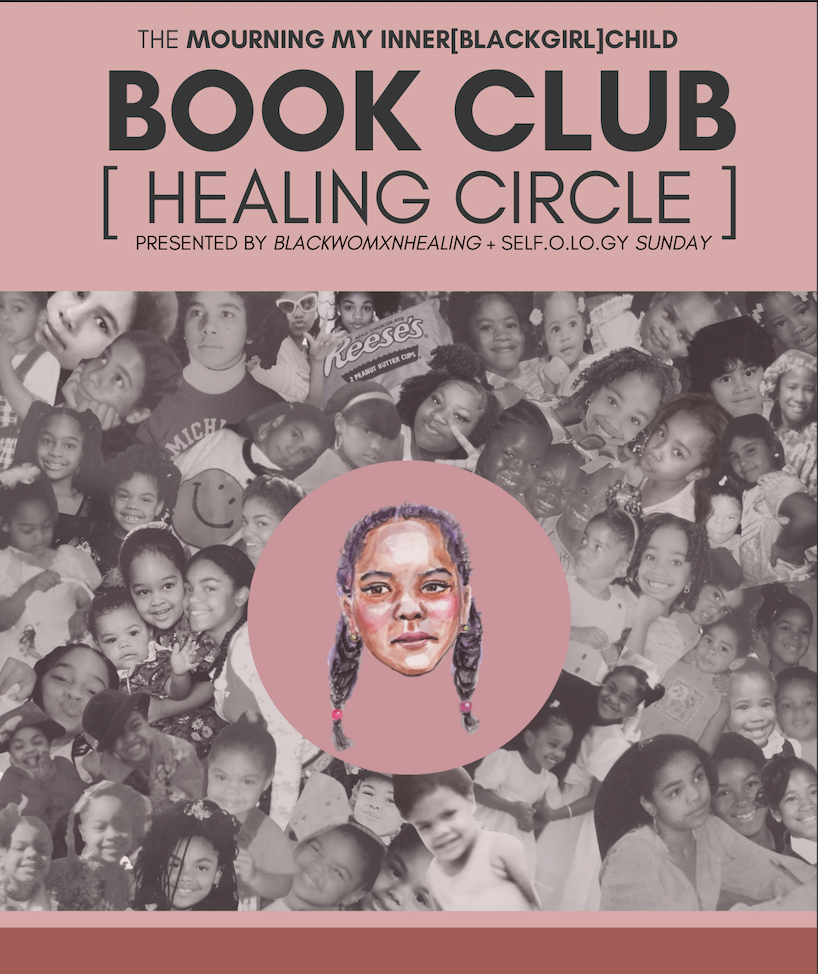 John Mundell
Project: Negotiating the African Diaspora: Race, Modernity, and Cultural Resistance in the Luso-Atlantic
As a part of a larger book-length project, I will analyze how white and black cultural producers in Brazil and Lusophone Africa have disputed Africanity since decolonization of Portugal's African territories. Despite white cultural producers' proclamations of a shared African heritage and aesthetics through discourses of racial democracy and Lusotropicalism, this desire for an immaterial African patrimony, laden with sexual imperialist overtones, has become more explicitly challenged since the late 1990s by black women and black queer and trans writers, musicians, and artists from Brazil, Lusophone Africa, and Portugal. This project aims to show how these artists sidestep white colonial nostalgia for African folklore by centering queer and feminist practices in the South Atlantic, thus forcing a renegotiation of Luso-Atlantic identities and diaspora more broadly.
Rashad Arman Timmons
Project: Constructing Race and Rail: Blackness, Geography, and Modern Infrastructure in Early Ferguson
This project seeks to situate the 2014 Ferguson Rebellion in a broader genealogy of racial and spatial relations by interrogating the historical entanglements between slavery, railway development, and urban planning in nineteenth and twentieth century St. Louis County, MO. It engages the archive of railroad construction in the region to uncover how the railroad functioned as a locus of modern social relations that concretized into dialectical racial subjectivities and uneven geographies. Ultimately, it considers how the rail naturalized hierarchies of racial, gendered, and spatial power that continue to underwrite Ferguson's present geographic order.
Alexander Ullman
Project: Hearing Black and Jew Anew: Conversations across the Diasporas
"Are conversations pathways to the exchange of understandings?" asks Claudia Rankine in her most recent book Just Us: An American Conversation (2020), or "are conversations accommodations?" My dissertation picks up these questions by returning to a crucial nexus within American Studies — Black and Jewish-American dialogue —and asking what we gain from actively listening to the voices at play in that dialogue. By centering actual relationships and recorded conversations between artists instead of broad historical generalizations, my project explores both the "pathways" and "accommodations" of performed conversation at the same time that it seeks to expand the binarism, essentialism, and teleology of any received "Black/Jewish" narrative into new—often queer, transhistorical, and sonic—territories.
Additional info: https://ucbsound.tumblr.com/
Nicole Viglini
Project: "'A Depot for the Country': Enslaved and Free Black Women's Property Claims and Entrepreneurship in the U.S. Antebellum and Civil War South"
My dissertation examines enslaved and free Black women's property claims and entrepreneurship in the antebellum and Civil War South. Living in a society in which they themselves were deemed property, faced constant threats of sale, or were forced to prove their freedom to any white person who confronted them, a significant number of enslaved and free women of color along the eastern seaboard and in the Deep South conducted diverse financial arrangements, operated their own businesses, and used their property to establish social, economic, and legal ties within their communities. Emphasizing these women's roles as entrepreneurs, I draw attention to the stories of individual actors in the history of capitalism and connect this history to the broader Black Atlantic world.
Morgan P. Vickers
Project: (Re)mapping Pre-Santee Cooper Deluge Communities
In 1939, the state of South Carolina drowned 901 (mostly Black) family homes and thousands of acres of land through the creation of lakes Marion and Moultrie. Efforts to occlude or reframe the drowning of Black towns contribute to forced forgetting and myths of universal support for state interests. Using mapping technologies and critical fabulation I will cartographically and socially undrown and (re)map the communities and ecologies of these disappeared spaces in an effort to demonstrate the scale and consequences of material and social deluges.
Additional info: https://morganpvickers.com/
Lindsey Villarreal
Project: Hella Fresh: Conversations in the Kitchen
We plan on meeting with Black farmers and Black chefs in the Bay Area to discuss food, health and the environment. A special emphasis will be on family, oral history and self-care as we re-integrate back to working in person and adjusting to changes from the pandemic.
Collaborators: Rashad Timmons and Ameer Loggins
april l. graham-jackson and Roderick E. Jackson
Project: developing Black visuethics: the Black eye, subjective intimacies, and the geographies of ocularization in chicagoland
Our project is a multi-sensory "coffee table" book and album that engages Black livingness through curated photographs, sonic recordings, music, and inner musings from Black chicagoans about Black chicagoland. we draw from our Black chicagoness, which travels through our veins like the "L" train that routes our city to critique the ocularization of Blackness and the ways "objectivity" and the white gaze disparages the relationships Black chicagoans have to each other and space, place, time, and scale. we utilize visual ethnography and Black "soundwalking" to explore the "Black eye," what dr. kimberly juanita brown calls "Black visuethics," and how the racialization of music, sound, and hearing/listening (re)directs where one focuses while transforming the geographies in which the livingness, music, and sounding occurs.
Additional info: https://blackchicagoland.com/
Kavena Hambira
Project: Nuh·mi·bee·uh
A short film by filmmaker Kavena Hambira that explores the erasure of history and reframes broader narratives about marginalized African communities, both on the continent and across the diaspora.
Additional info: http://www.kavkavilier.com/
Jarre Hamilton
Project: Race, Place, and Other Things for the Taking: The Buffalo Soldiers and Allensworth, California
My dissertation project centers the daily lives of the pioneers of the Freedmen's town, Allensworth, California—their lived experiences, their hardships, their joy, and their legacy. This dissertation project and its collaborative endeavors seek to address several themes: 1) How do we collectively remember, memorialize, and preserve the African American past? 2) How do we understand how a Black community navigates a racialized landscape and constructs their identity through the material culture left behind; and 3) Through community-engaged work, I am showing how a widespread descendant community exercises their own forms of community- and individual- agency and healing. And hypothesizing what archaeology can bring to the table to help facilitate this effort? I have partnered with Friends of Allensworth non-profit to create and provide educational programming and other related deliverables designed for the public to enjoy and learn from.
Collaborators: Friends of Allensworth
Maya Sapienza
Project: Designed Erasure: Mapping Infrastructure and Black Urban Life in West Oakland
The focus of this research project is to explore how race and racialization contribute to the various cycles of development, destruction, and redevelopment in West Oakland. The questions that animate this research are: what does it mean for Black people in Oakland to live through constant cycles of movement, containment, dispossession, and erasure? How can we imagine various forms of displacement and emplacement alongside the mechanisms that attempt to keep Black people in place?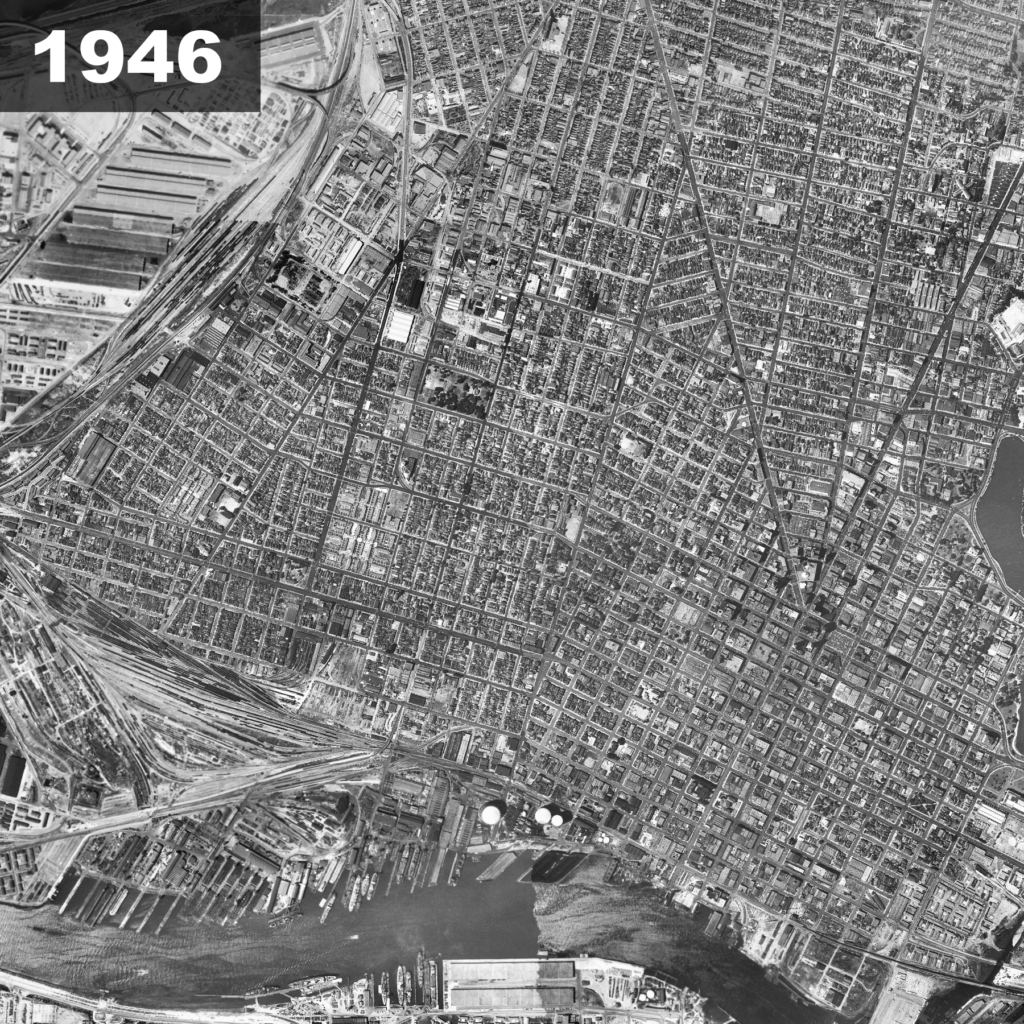 Aya de Leon
Project: Black Literature vs. The Climate Emergency
Black Literature vs. The Climate Emergency is a one-day, virtual conference to celebrate the power of Afro-Diasporic fiction, non-fiction and poetry/spoken word at the forefront of addressing the climate emergency and inviting an escalation of literary efforts to document, imagine, and encourage the engagement Black communities in the movement for climate justice.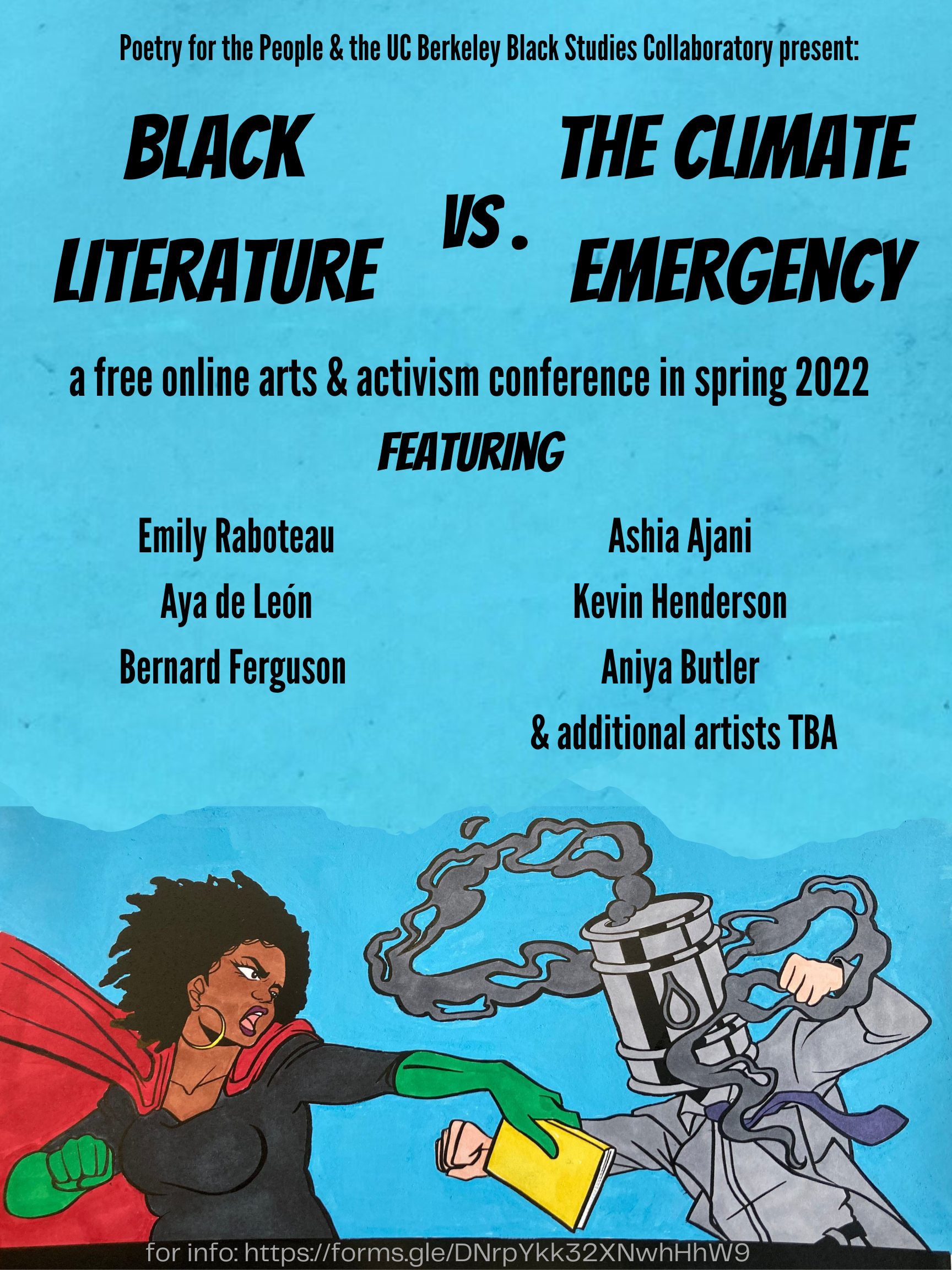 Caleb Dawson
Project: Black Lives at Cal (BLAC)
Black Lives at Cal (BLAC) is a new and multi-year initiative to celebrate, defend, and advance the legacy of Black life-making at the University of California Berkeley. BLAC uses qualitative methods to investigate the lived experiences, struggles, and accomplishments of UC Black campus members (i.e., Black students, faculty, staff, and alumni) with a balanced attention to individuals, informal collectives, organizations, and campus units. More than a research endeavor, BLAC is dedicated to developing novel ways to preserve and publicize these legacies such as a website and interactive visuals (e.g. timeline, maps, exhibits) so that prospective, current, and former Black campus members can identify themselves with and build upon the these legacies.
Project collaborators: Takiyah Jackson, Stephen Small, Gia White, Laura McCreery, Daniella Lake, Elle Henry, and Amari Turner
Melissa Charles
Project: Afrikan/Black Liberation Movement: A Praxis-Based Course
this project will engage student in praxis-based coursework in and around their communities. alongside a historical analysis on various afrikan/black movements for liberation (both domestic and international), students will be engaged in revolutionary practice with local pan-afrikan organizations as volunteers. while engaging in study alongside practice, students will be provided with the opportunity create real life connections between the liberatory ideologies of black/afrikan revolutionaries and their personal capacity/role as change makers within their spheres of influence.
Additional info: https://agapemvmt.org/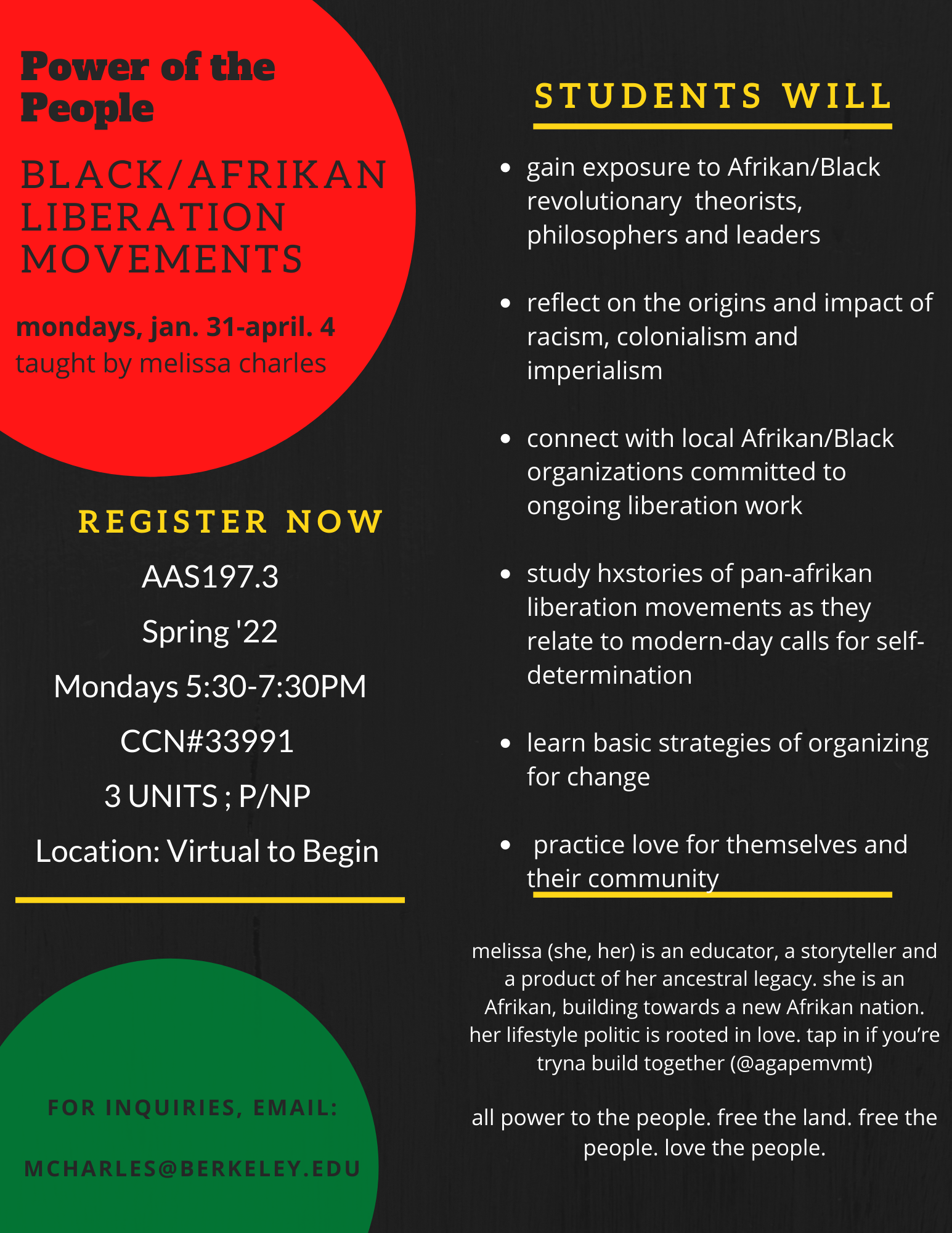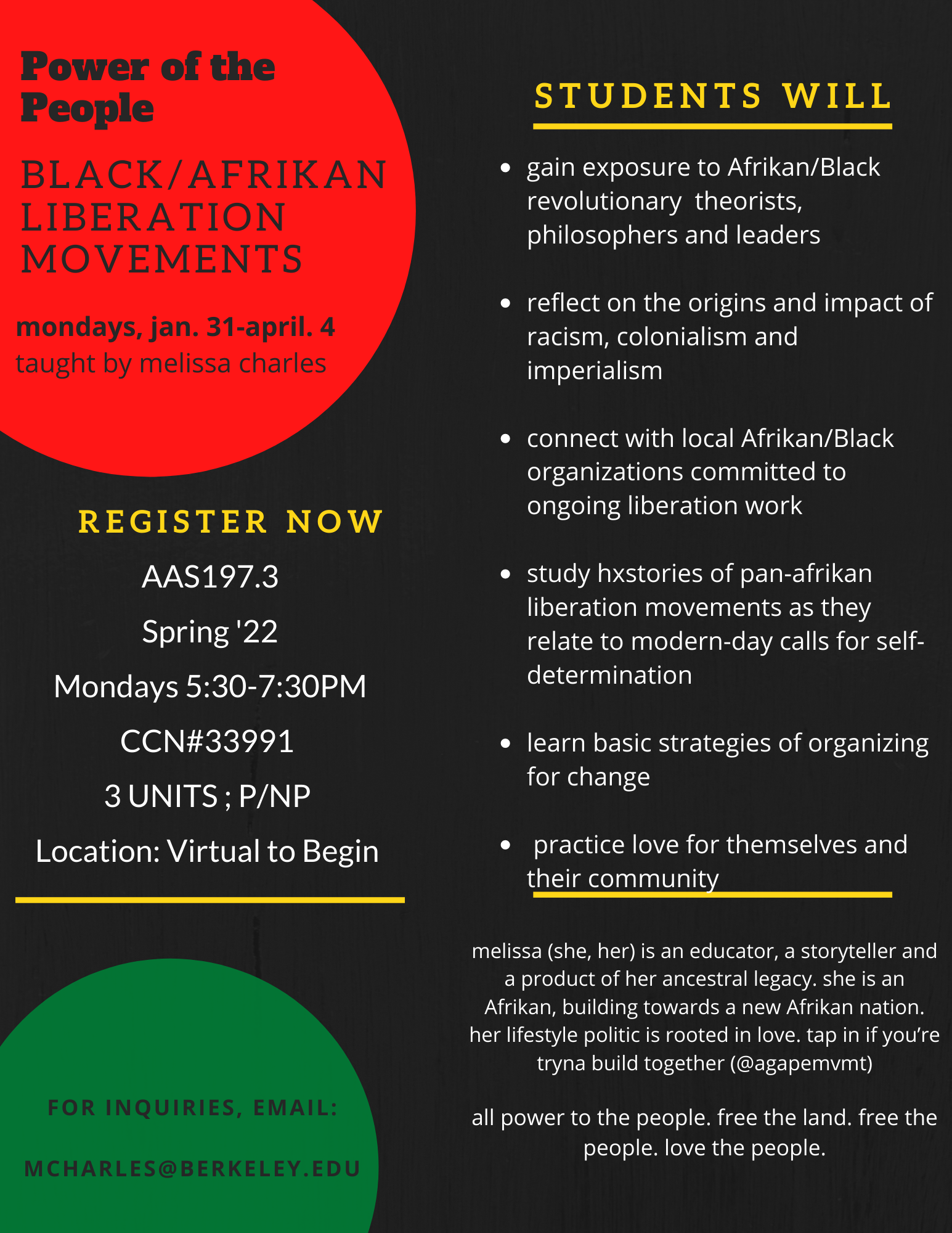 Toni R. Juncosa
Project: Phenomenology of the Virus: A Queer Black Approach to HIV in 21st-Century US Poetry
An analysis of poetry written by queer, Black HIV+ poets, focusing on the contemporary experience of the virus in the United States. This research project pays attention to specific literary devices deployed to convey what being seropositive feels like in the "post-crisis" era of effective antiretroviral treatment.
Find out more: https://ub.academia.edu/ToniJuncosa, https://www.ub.edu/adhuc/en/curriculum/toni-r-juncosa
Bashirah Mack
Project: Black Muslim Youth Digital Archive: An Archive of Black Muslim Youth Culture in Atlanta from the 1980s, 1990s, and early 2000s
Erica Deeman
Project: Planted/Uprooted
Nejat Kedir
Project: Sylvia Wynter Archive
Gia White
Project: As I Walk These Paths: Black History Podcast Tour, UCB