When: April 20th, 2022 5:00pm – 9:00pm
Location: Critical Resistance @ 4400 Telegraph Ave, Oakland
The Black Healing Portal (BHP) / Portal Negro de Sanación is an interdisciplinary, multidimensional performance and community offering that shatters coloniality. Curated and dreamed up by the miraculous Krudxs Cubensi, unapologetic life-giving game-changers. BHP is resiliencia transformativa, es una combinación espacio, tiempo en clave tropical. It is a collaboration that centers the lives and artistic work of Afro Caribbean and Latin American self-created transfeminist warriors. Queer afrodiasporiques en movimiento. Authenticity from radical self-representation. The Black Healing Portal will take participants, Goddess and Spirits on a extraordinary, transcendental journey that explores race, religion, gender, temporality, class, and sexuality through art. La música como espíritu de la práctica y el cuerpo como alma del ritual to invert the margins, subverting hierarchies and reactivating ciclos sagrados: Individualidad/ Energía colective, Invidualidad/ Energía colective. BHP imagines that magic healing is possible. Wounded healers are unparalleled, the foremost healers.
Si puedes sanarte a ti misme, puedes sanar al mundo.
*bring something special to leave at the altar
Accessibility
This event is in-person and open to the public. Spanish language and English interpretation will be available. If you need accommodations to fully participate, please contact Barbara Montano at bmontano14@berkeley.edu or 510-664-4324 with as much advance notice as possible.
Krudxs Cubensi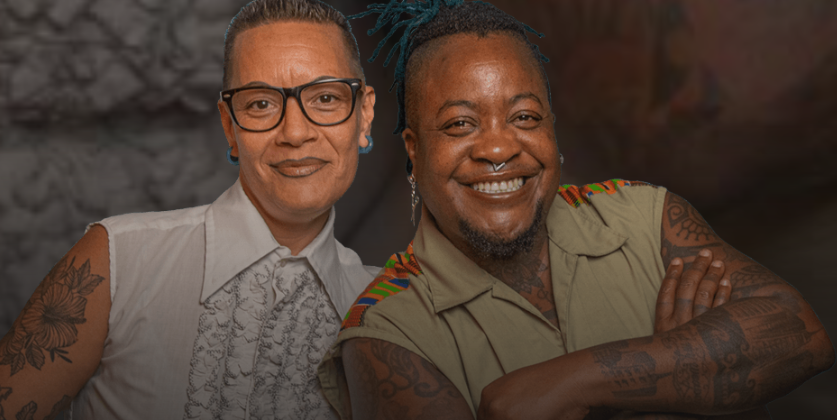 Krudxs Cubensi is an AfroCuban queer feminist Hip Hop duo composed of Odaymar Cuesta and Oli Prendes and committed to Black feminist, queer and vegan politics within the Caribbean and beyond.
Central to their mission is the belief that music is medicine for the people and for themselves. Both musicians have extensive formal training – Odaymar Cuesta studied Fine Arts at the Higher Pedagogical Institute in Havana and Oli Prendes at the National School of Music and the Higher Institute of Art in Havana Cuba. They have produced eight independent albums, produced, directed and starred in music and art videos, self-organized several US and international tours, and collaborated with more than three hundred artists and activists on projects around the world.
Art by @odaymar.
Artist Collaborators
Photo: Agustin Pilar (ruidoanonimo)
Agatha Brooks
Agatha Jamine Brooks was born in the Bahamas on June 27, in 1988 and has lived in the Dominican Republic as an undocumented person since she was 2 years old. She is a transgender woman who proclaims herself a poet, actress, trans feminist and Gothic. Her beginnings as a poet take shape in her blog Agatha Brooks Diary. She was then published for the first time on September 27, 2019, in the Poetic Challenge of Landscape Bottle a public and open call made by the cultural platform Moñohecho. Later Catinga Ediciones published her in 2020 with a Fanzine with by same title and she recently appears as part of the "Aquelarre de Negras" poetry book. @agathajbrooks
Ford Kelly
Ford Kelly is a Black Queer Alien, Educator and Multidisciplinary Artist. Ford Kelly has a multi-tool kit of creative talents weaving their time between art, music, design and organising. Whether it be illustrations and design, fashion design and editing or community organising, workshops and djing, they have a passion for all things d.i.y. In the last decade they have self published work on Queer themes and on Blackness and recently published The Afrofuturist Coloring Book. The main core of their artwork is framed within an Afrofuturist perspective. @SoyFordKelly
Ju Puello
Afro-Dominican transmasculine writer, composer, and poet.
He grew up in San Cristóbal surrounded by young artists who constructed revolution from poverty and marginality. His interest in rap, poetry and narration was born there, eventually becoming a part of the literary workshop "Mi barrio en letras". In 2017, he obtained a scholarship and began his migration to Honduras, an experience that marked his literature portraying the lives of sexual dissidents, black folk, the poor and migrants, themes that run through his flesh and skin.
He claims his "tigueraje" [hood identity in Dominican Republic slang], writing from the neighborhood and for the neighborhood. His work has been shared on various digital and physical platforms in Spain, Mexico, Argentina, Miami, Dominican Republic, Nicaragua, and Honduras.
He participated in the collective publication "Queer Life in the Margins" published by Edge Zones Press in Miami. He has published a fanzine that bears his name published by Catinga Ediciones, the independent fanzine "Las Vidas Negras Trans Importan" and the poetry book "La última vida de un gato" (unpublished) that was granted an award by Managua Furiosa (Ni).
He currently resides in Honduras and is a member of the LGBTIQ+ creators collective "La Maricada", founder and co-editor of the Digital Magazine La Maricada, an initiative that seeks to make literary and creative work visible from the perspective of sexual diversity. @mcjuma17
Lilith Delgado
My name is Lilith Delgado, daughter of Patricia Delgado (deceased), I am a trans woman born on October 24, 1999, in the city of Santiago de Cali – Colombia. At the age of four, I moved to Panama where I lived 14 years of my life, I have both good and bad memories from that time. My experience at school was traumatic because I was a black, fat and "gay" boy. I was bullied very often and my mother's death then triggered my return to Colombia. I went back to Colombia and lived at an aunt's house, my mother's sister, where I experienced many abuses and attacks on my self-esteem. I studied software programming, unfortunately, I could never work there because no company wanted to accept me as an intern to begin my career. I was a webcam model which allowed me to start my transition, currently I belong to two collectives: Colectiva Trans- EmpoderArte and Colectivo Posa Auto. I currently practice street sex work due to lack of opportunities; I hope that one day I will find new opportunities to change my lifestyle. Lilith Fernanda Delgado
Nancy Cepero
Graduated in 2008 from the National Academy of Fine Arts "San Alejandro" in Cuba. Participated in other areas of study and workshops, focusing on Avant-Garde Cinema, Artistic Photography, History of the Cuban Poster, and Illustration via Acquaforte [Etching]. Screen printing printer at René Portocarrero Screen Printing Workshop between 2008 and 2011. Co-founder of the artivist collective Nosotrxs from 2018-2020. Co-founder of vegan catering Veganas from 2017-2020. Production and organization of talks, practical workshops, and tastings of vegan cuisine on the Regla Soul 2019 platform. Co-founder of the entrepreneurial project Capuchina Vegana 2020. @callmecyann
En español
Agatha Brooks
Agatha Jamine Brooks, nacida en las Islas Bahamas un 27 de junio de 1988 y viviendo en República Dominicana de forma indocumentada desde los 2 años de edad. Es una mujer transgénero que se proclama poeta, actriz, transfeminista y gótica. Sus inicios como poeta forma fue desde su blog Agatha Brooks Diary, luego fue publicada por primera vez el 27 de septiembre 2019 en la convocatoria abierta al público del Reto Poético de Frasco de Paisaje, de la plataforma cultural Moñohecho. Luego por Catinga Ediciones en 2020 con un Fanzine con su mismo nombre de título y recientemente aparece como parte del poemario de Aquelarre de Negras. @agathajbrooks
Ju Puello
Escritor, compositor y poeta transmasculino, afrodominicano.
Creció en San Cristóbal rodeado de jóvenes artistas que desde la pobreza y marginalidad hacían revolución. De allí nace su interés por el rap, la poesía y la narración, llegando a pertenecer al taller literario "Mi barrio en letras". En el 2017 obtiene una beca de estudios e inicia su migración a Honduras, experiencia que ha marcado su literatura retratando la vida de personas disidentes sexuales, negrxs, pobres y migrantes, tópicos que le atraviesan la carne y la piel.
Reinvindica su tigueraje, escribiendo desde el barrio y para el barrio. Su trabajo ha sido compartido en diversas plataformas digitales y físicas en España, México, Argentina, Miami, República Dominicana, Nicaragua y Honduras.
Participó en la publicación colectiva "Queer Life in the Margins" publicado por Edge Zones Press Miami. Ha publicado un fanzine que lleva su nombre publicado por Catinga Ediciones, el fanzine independiente "Las Vidas Negras Trans Importan" y el poemario "La última vida de un gato" (inédito) premiado por Managua Furiosa (Ni).
En la actualidad reside en Honduras y es miembro de la colectiva de creadorxs LGBTIQ+ "La Maricada", fundador y coeditor de la Revista Digital La Maricada, iniciativa que busca visibilizar el trabajo literario y creativo desde la diversidad sexual. @mcjuma17
Lilith Delgado
Mi nombre es Lilith delgado hija de Patricia Delgado (difunta), soy una mujer trans nacida el 24 de octubre de 1999 en la ciudad de Santiago de Cali – Colombia. A los cuatro años me fui a vivir a Panamá donde vivi 14 años de mi vida donde tengo buenos y malos recuerdos, mi paso por el colegio fue traumático por el hecho de ser un chico negro, gordo y "gay" donde sufrí mucho bullying, también sucedió la muerte de mi madre que desencadenó a que volvería a Colombia. Regrese y viví en la casa de una tía hermana de mi madre, donde vivi muchos abusos y ataques a mi autoestima, estudie programación de software lastimosamente no pude nunca trabajar porque ninguna empresa me quiso aceptar para hacer las prácticas. Fui modelo webcam que me permitió comenzar mi tránsito, actualmente pertenezco a dos colectivas que son : Colectiva Trans- EmpoderArte y Colectivo Posa Auto. Actualmente ejerzo la prostitución en la calle por faltas de oportunidades, con la esperanza de poder algún día encontrar nuevas oportunidades para cambiar de estilo de vida. Lilith Fernanda Delgado
Nancy Cepero
Graduade en 2008 de la Academia Nacional de Bellas artes San Alejandro. Otros estudios y talleres en Cine de vanguardia, Fotografía artística, Historia del cartel cubano e ilustración al agua fuerte. Impresor serigráfico en Taller de serigrafía René Portocarrero entre 2008 y 2011. Co-fundadore de la colectiva artivista Nosotrxs 2018-2020. Co-fundadore del catering vegano Veganas 2017-2020. Organización y realización de charlas, talleres prácticos y degustaciones sobre cocina vegana en la plataforma Regla Soul 2019. Co-fundadore del emprendimiento Capuchina Vegana 2020. @callmecyann